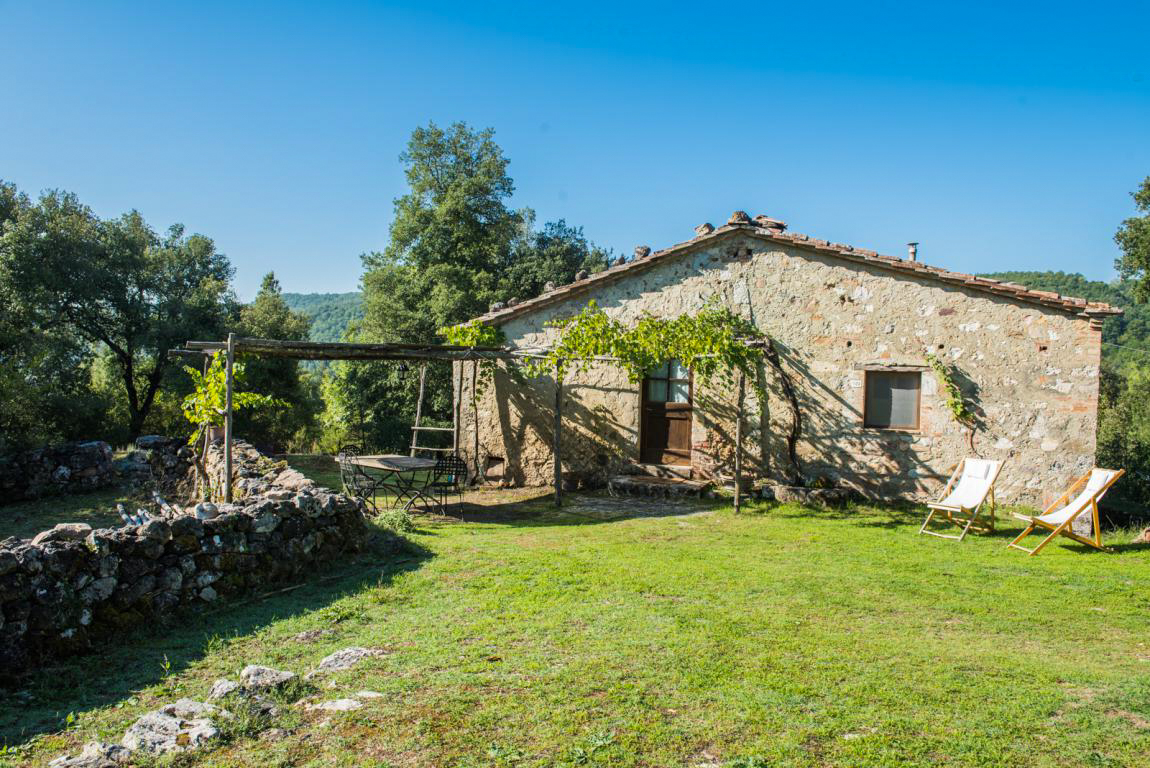 MONTECCHINo
2 bedrooms 2 bathrooms • About 0,6 mile away from the main Castello compound • heat available
BOOK HERE FOR THE BEST PRICE!
MONTECCHINO
2 bedrooms 2 bathrooms • About 0,6 mile away from the main Castello compound • heat available
casa Montecchino (2-5 people), independent farmhouse, 700 m from th villa & pool
2 bedrooms 2 bathrooms • 700m from the Villa and swimming pool • heat available.
Montecchino (sleeps 4) is a lovely retreat for guests seeking a more secluded and quiet vacation.  Surrounded by the wooded hills, this charming farmhouse is easily accessible with all the rooms on the same floor. The master bedroom with a double bed and bathroom with shower has two windows overlooking the hill and pastures. The other bedroom has a view of the valley and a bathroom with bathtub / shower.  It has two living rooms, one with a French sofa bed. Near the entrance is the living room with a fireplace.  The kitchen and dining area overlook the outdoor pergola, with a large stone table, offering an additional  place for relaxation and comfort. The kitchen / living area is fully equipped.  We encourage our guests to order a basket of vegetables gathered in the Spannocchia garden and to taste our wine, olive oil, honey, and award-winning salumiproducts. All Organic!
Given the thickness of the walls, Wi-Fi reception may be weak inside the building. One more reason to enjoy the outdoor pergola where Wi-Fi coverage is guaranteed.
It has a LPG boiler with radiators and a fireplace.
Montecchino is close to Casa Montecchio
Montecchino has all a family needs with bedrooms, bathrooms, kitchen, laundry and two living rooms.  We especially loved the outdoor dining area under a grape arbor and grilled a fabulous dinner alfresco.  These accommodations are authentic and give a true feeling of being a part of the Tuscan lifestyle, unchnaged for centuries.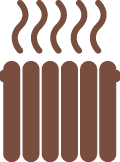 Please Notice
The cost for utility usage for electricity, gas, and firewood is not included in house rental prices during mid and low seasons. We intentionally keep our basic rental rates as low as possible, allowing our guests to have responsibility for their utility usage during their stay. This is one way for us to encourage and reward good conservation of energy resources.
Following is information about possible utility costs for our houses during each season. Utility usage varies from guest to guest and according to the time of year and weather conditions so keep in mind that these figures are a ranges of costs.