FANTINO
2 bedrooms 1 bathroom • by main castle compound • heat available
Eat outside under the Trebbiano grapes pergola
2 bedrooms 1 bathroom • by main castle compound • heat available .
Casa del Fantino (sleeps 4-5) is a cozy house, located in the main Castello courtyard, near the swimming pool, guest office and shop, and dining room. The house is adjacent to Casa Dami. There are 2 bedrooms, one with an extra sleeping loft, a spacious bathroom with a full tub/shower and a washing machine, and a small reading nook perfect for curling up with a good book.
The fireplace in the kitchen/dining area provides warmth and a cozy atmosphere on colder nights. In the warmer months, most guests eat outside under the attached pergola covered with white Trebbiano grapes.
The kitchen is stocked with all the items needed to make and serve meals, and we welcome guests to order a harvest basket of organic vegetables from the Spannocchia garden or to try our own organic wine, olive oil, honey, or pasta when creating their own versions of a Tuscan dinner.
Spannochia is an extraordinary place.  I was blown away by the photos but the reality is even more beautiful!  Our two bedroom house was spacious and stylishly decorated in an authentic but chic Tuscan style.  We loved eating under the grapevine outside, watching the farm animals play in the sun.  I couldn't recommend this place more highly.
Abilgail, 2015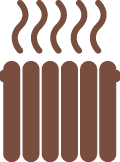 Please Notice
The cost for utility usage for electricity, gas, and firewood is not included in house rental prices during mid and low seasons. We intentionally keep our basic rental rates as low as possible, allowing our guests to have responsibility for their utility usage during their stay. This is one way for us to encourage and reward good conservation of energy resources.
Following is information about possible utility costs for our houses during each season. Utility usage varies from guest to guest and according to the time of year and weather conditions so keep in mind that these figures are a ranges of costs.