PALAZZE TORRE
3 bedrooms 2 bathroom • About 0,7 mile away from the main Castello compound • heat not available
BOOK HERE FOR THE BEST PRICE!
PALAZZE TORRE
3 bedrooms 2 bathroom • About 0,7 mile away from the main Castello compound • heat not available
casa palazze torre (6 people), independent farmhouse, 800m from the villa & pool
3 bedrooms 2 bathroom • 800m from the Villa and swimming pool • heat not available.
Palazze Torre earned its name from its original 13th century tower. It has a living room with a fireplace and a large kitchen with a beautiful travertine sink.  Two bedrooms offer views of the vineyards and valley and there is a large bathroom with tub / shower.  On the upper floor there is another bedroom with a bathroom and shower. The kitchen is fully equipped.  We encourage our guests to order a basket of vegetables gathered in the Spannocchia garden and to taste our wine, olive oil, honey, and award-winning salumi products. All Organic!
There is also a comfortable covered patio on the ground floor near the vineyards.
The farmhouse is adjacent to Casa Le Logge.
We enjoyed the privacy and the beautiful outdoor space of this house.  Our stay was tranquil and restful.  The dinners were wonderful and we found the interns who work at the farm to be very friendly and helpful.  We enjoyed wine on the terrace before dinner and swimming in the pool.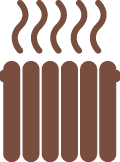 Please Notice
The cost for utility usage for electricity, gas, and firewood is not included in house rental prices during mid and low seasons. We intentionally keep our basic rental rates as low as possible, allowing our guests to have responsibility for their utility usage during their stay. This is one way for us to encourage and reward good conservation of energy resources.
Following is information about possible utility costs for our houses during each season. Utility usage varies from guest to guest and according to the time of year and weather conditions so keep in mind that these figures are a ranges of costs.